After expressing support for Shah Rukh Khan and his family, Prakash Raj was dubbed the "male equivalent" of actress Swara Bhasker. Since then, the veteran actor-politician has suffered social media backlash. Some likened him to an actress since she is not afraid to share her opinions. In response to the trolls, Prakash said that being likened to Swara is an "honour." Swara herself reacted to Prakash Raj's response to a user. "How could they put him (Shah Rukh) and his family through such persecution and agony when he has been giving the country love and joy for decades!" Prakash retweeted.
I am HONOURED to be called as the male version of @ReallySwara … 🙏🏻🙏🏻🙏🏻 who's version are you #justasking https://t.co/kcMx1y6dg6

— Prakash Raj (@prakashraaj) August 25, 2022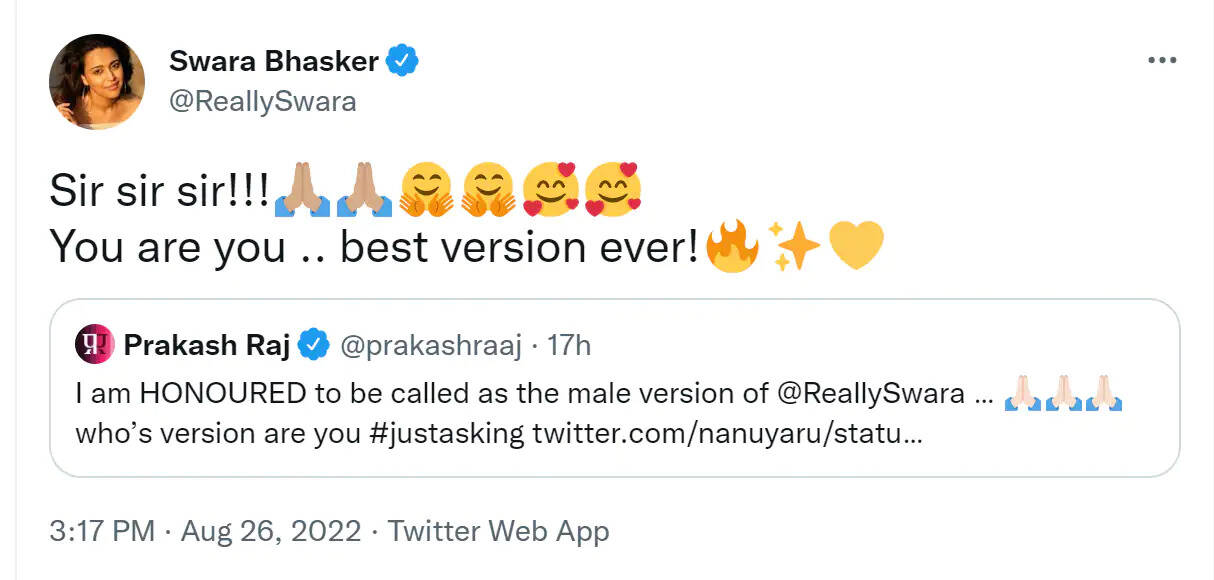 "prakacha has tweeted, whether it is visible to you or not that tweet is not worth a dime also, he is the male counterpart of @ReallySwara," one person responded.
"I am HONOURED to be labelled the male version of @ReallySwara (folded hands emoji) whose version is you #justasking," Prakash responded to the naysayers. Swara immediately replied to his post with multiple emojis, "Sir, sir, sir You are you. the finest rendition ever!"
Swara Bhasker is well-known for her outspokenness on social problems, which has frequently resulted in disputes and personal assaults.